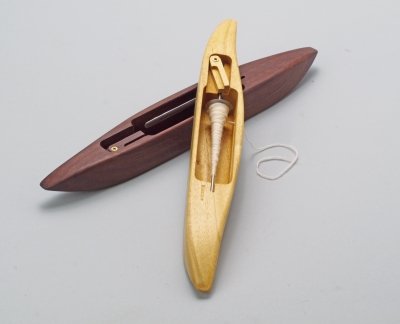 Patterned after a classic design by Ed Bosworth, Jonathan's father, our own Boat Shuttles are made in beautifully hand-finished woods. No matter which wood you choose, you will enjoy weaving with these smooth shuttles.
These Boat Shuttles are a perfect fit for our own Bosworth Charkha Spindles.
You can also use them with Harrisville or Leclerc standard 4″ bobbins
or your own paper bobbins.
Note: Our Shuttles cannot be used with the spindles from an Indian book charkha, and our Charkha Spindles do not fit the Bluster Bay shuttles meant for Indian book charkhas.


Shuttle Dimensions: 11 1⁄2" long  x  1 5⁄8" wide*  x  1 1⁄4" tall*
Bobbin Well for Standard Charkha Spindles: 
1 1⁄4" wide  x  1 1⁄8" deep   x  4 3⁄16" long 
Our Standard Charkha Spindle shuttles can hold 4″ Harrisville or Leclerc Bobbins
Bobbin Well for Plying Charkha Spindles: 
1 1⁄4" wide  x  1 1⁄8" deep   x  5 3⁄16" long 
Our Plying Charkha Spindle shuttles can hold 4″ Schacht Bobbins
*at widest/tallest point       
Shuttles for Standard Charkha Spindles: 
 Canarywood, Mulberry
Shuttles for Plying Charkha Spindles:
SOLD OUT
Available now for Standard Charkha Spindles:

Australian Curly Marri 
$1o5