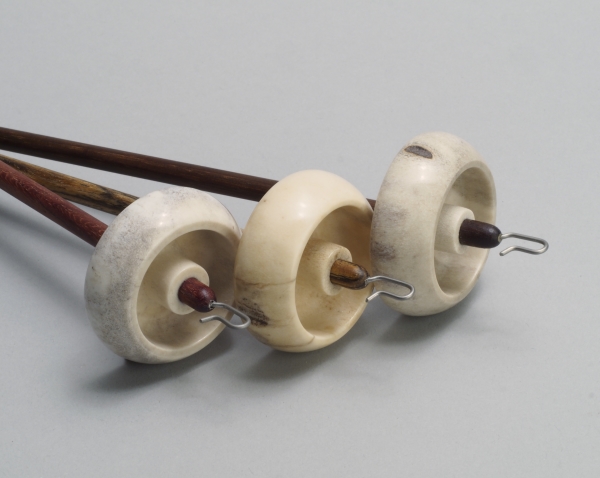 Jonathan turns herds of  Moosie™  spindles throughout the year.
Made from naturally dropped moose antlers, these spindles have a unique look and texture. Moosies™ include a custom shaft, and are made with the highest attention to detail.
What can I say about my Moosie™? It is divine, wonderful, beautiful, and I am spinning up a storm. It's perfectly balanced, so pretty to look at.
Our Moosies™ feature a 1.5-2″ whorl, set on a  9″ hand-turned hardwood shaft. Weights vary by size and density, averaging 24-39 g ( .84-1.39 oz). Details about each herd are provided after they are turned, polished and finished with shaft and hook.
Moosie™ spindle current price is $175 plus shipping.
A new herd is produced monthly in 2023. Fill out this form to be added to our "Moosie™ Holding File." We will send details regarding available sizes and weights, price, and delivery when your herd is ready.